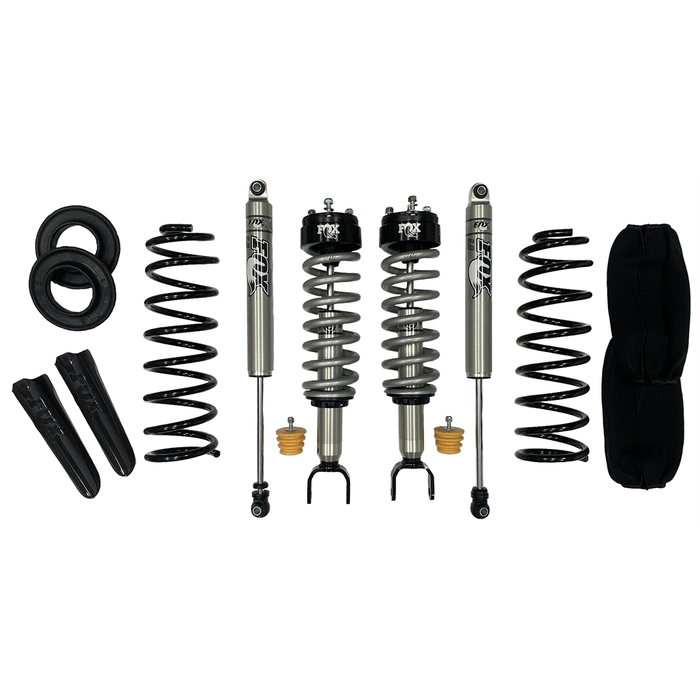 Ram 1500 5.7L Fox 2.0 Conversion Kit (2013 - 2018 & 2019+ Classic)
Original price
$1,849.00
-
Original price
$2,136.00
Fits 2013 - 2018, 2019+ (Classic) Ram 1500 4x4 & 2wd (including Rebel)
This kit uses Fox 2.0 Performance Series struts and shocks. Stock rear ride height and 0-2" adjustable front lift height.  
Includes:
Fox 2.0 Performance Series front struts

Stock height rear coil springs

Fox 2.0 Performance Series rear shocks

Rear isolators

Rear bump stops

Optional (Recommended for off-road or gravel use!):

Front coil spring covers

Rear shock boots

Rear shock shaft guards
Fits:
2013-2018 Ram 1500 5.7L

2019-2020 Ram 1500 Classic 5.7L
Fits all trim levels including Rebel, Laramie, Longhorn and Limited.
Note: You will be required to adjust the front ride height as you see fit after installation.  Ride height can be adjusted by turning the adjustment collar on the bottom of the strut.
Note:  If you choose to upgrade to the JBA Upper Control arms, please be aware that they are larger and much stronger than stock, and as a result they do have slightly reduced clearance between the tire and the upper balljoint.  If you choose to run wider than stock tires while still retaining the stock wheels, you may require wheel spacers to clear the upper control arm.  Most aftermarket wheels have decreased offset and will clear wider tires without any issues.
Note: All of our kits include the use of a programming tool which allows you to remove the "Immediate Air Suspension Service/Repair Required" message from the dashboard.  We don't use cheap and unreliable relays like our competitors.  Our programming tool is designed to modify the calibration of the BCM so that the truck thinks it never came with air suspension from the factory.  This is a permanent solution.
If you'd like to get a programming tool with your kit, please select "Yes, I'd like to borrow a programming tool on the option above".  This is a $230 refundable charge which will allow us to include the programming tool with your order.  We really try hard to keep costs down for our customers, so these are supplied on a deposit "rental" basis.  When you're done installing your kit and the programming is done, mail us back the programmer and we will happily refund you the $230 deposit.