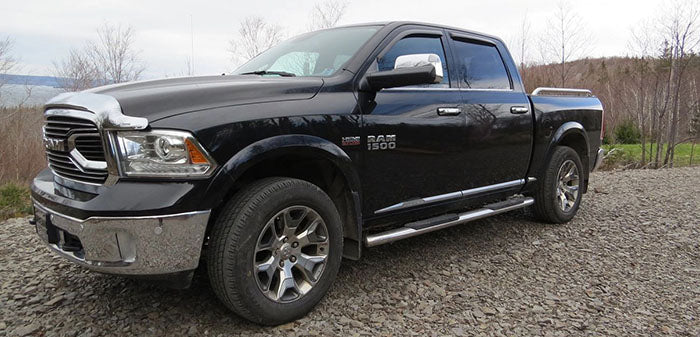 A Powerful Solution to Your Dodge RAM Suspension Problems
The Dodge RAM 1500 is a beauty, known for its "Guts, Glory, and Ram". This gritty truck has been a favourite among truck enthusiasts and automotive critics since its inception. For the past six years, it has been named "Truck of the Year" by Motor Trend and, for the past three years, has been an IIHS Top Safety Pick. Safe enough for the family and tough enough for country roads, the Dodge RAM 1500 is the undeniable king of the road, except for one minor issue that has cropped up since 2013, a faulty active air suspension integration.
While the active air suspension treats riders to adjustable ride heights, the perks of the air suspension slowly diminish over time. Luckily, we have a RAM 1500 air suspension conversion kit that can restore your ride and suspension so that you can enjoy the open road and your Dodge RAM 1500 bump-free.
What are the Issues Associated with the Dodge Ram 1500 Air Suspension?
The active air suspension is an innovative product that offers an excellent ride for the first few years of the Dodge RAM 1500's lifespan. The problem is the lifetime is limited, and for those who drive for work or enjoy off-roading, the suspension may fail sooner than you would expect. RAM owners from 2013 on up have already experienced multiple issues with their active air suspension leading to the creation of the RAM 1500 spring conversion kit. To say RAM owners are disappointed by their suspension failing is an understatement, but it's not a reason to give up on the mighty beast. Several solutions can help troubleshoot common issues.
Some Dodge RAM 1500 owners report the truck cannot maintain a ride height after years of use. Others note that the vehicle is starting to sag at one or several corners. Luckier Dodge RAM owners don't notice the lift is affected, but they see that the compressor is running too long or extremely noisy.
Regardless of the issue, a failing air suspension is a serious challenge, and it gets severe once owners see the estimate for repairing their suspension. The problem with repairing air suspensions is that almost all components need to be replaced in the process, which essentially makes it a replacement job.
Why Does the Factory-Installed Ram 1500 Suspension Fail?
If RAM knows about its air suspension issue, the obvious question is, why haven't they done anything about it? The simple truth is that the problem is not isolated to the Dodge RAM. The suspension system of the RAM is an excellent example of intricate machinery and advanced technology. The problem lies with the actual construction of the air suspension system. An air suspension system relies on many parts that are all intertwined, so if one component fails, it takes the entire system down with it. Compounding the issue is the fact that the suspension system relies heavily on electronic components and moving parts. Guess which two vehicle parts are most likely to fail? If you guessed moving parts and electronic components, you are probably starting to see the issue.
Let's take a closer look at how the suspension works to truly understand why it fails and why you are now looking at a coil spring conversion kit. There are four height sensors mounted around your truck at each corner. Each of these sensors has multiple jobs- to read the height the corner sensor is from the ground and then report its findings to the control module, which is the suspension's brain.
The control module then uses the information to decipher whether or not any of the corners need to be lowered or raised to match the rest of the truck. If something needs to be adjusted, a signal is sent out to the compressor, and the air is then released or pumped into the airbag accordingly. Believe it or not, you are riding on top of flexible rubber airbags, which support the vehicle and delivers a smooth ride, which the Dodge RAM 1500 is known for while it's suspension is still functional. However, this cycle is constantly in flux and happens hundreds of times within even just a 15-minute drive to the store. Therefore, it's hardly surprising that it fails long before your Dodge RAM 1500 will.
Your Options if your Dodge RAM 1500 Air Suspension is Failing
If your Dodge Ram 1500 air suspension is failing, you have three options:
Option 1: Head to the dealer
Many people automatically assume they have to let a Stellantis dealer handle the issue, and the dealer probably can fix it. BUT, they will replace the broken components with OEM parts, and the entire process will cost you quite a bit.
Option 2: Look for Aftermarket RAM 1500 Air Suspension Components
Opting for aftermarket parts over OEM parts can help you reduce the parts' costs, but unfortunately, they are not easy to install. Therefore, you will probably have to hire someone to install the aftermarket parts, and the labour costs will be pretty high.
Option 3: Consider a Dodge Ram 1500 Conversion Kit
At first, it might seem a bit crazy to convert that fancy air suspension system into a standard coil spring suspension, but if you want a suspension that will work properly and reliably for years to come, it's the smarter choice. 
The truth is you can spend thousands to fix/replace your air suspension system, but chances are, in a few more years, you will be standing at the same crossroads again. It's hard to enjoy a suspension with a very limited lifetime attached to it. Our Dodge Ram 1500 suspension conversion kits are available for all Dodge Ram 1500 models built between 2013 and 2018 (and 2019+ classic models) in the US or Canada. In place of electronics and air, it relies on mechanical resistance, which is a time-tested solution. In the end, you won't be able to brag about an active air suspension, but you won't notice much of a difference in your ride once you switch to the traditional coil support. On the other hand, if your air suspension system is in bad shape right now, installing a conversion kit might be life-changing.
Our Ram 1500 suspension conversion kits are carefully designed to mimic the active air suspension system and are easy enough to install that most mechanically inclined RAM owners can handle the install at home. Most people report it takes about one hour per wheel to install the entire Dodge Ram 1500 air suspension kit. That means you can get a smooth and reliable ride back in just one weekend afternoon.
Save Your Ride and Act Now
A below-par suspension will lead to additional electronic and mechanical issues. If you think that your Dodge Ram 1500 air suspension is starting to slide, you need to act quickly.
Questions about our easy-to-install Dodge Ram 1500 suspension conversion kits? Call to talk with one of our experts or place your order today!