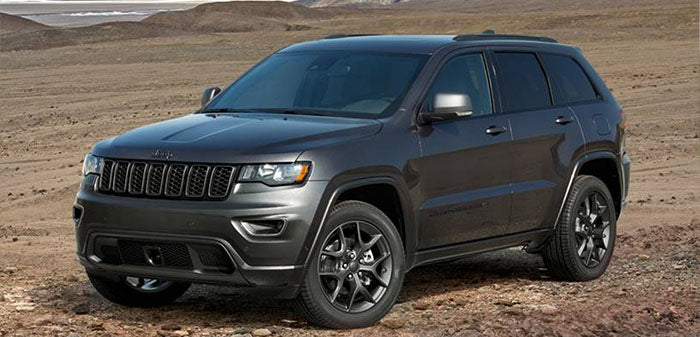 Glide Down the Road With a Grand Cherokee Spring Conversion Kit
Restore your smooth ride and save money by investing in a Jeep Grand Cherokee suspension conversion kit to replace a failing air suspension system.
The Jeep Grand Cherokee has been a favourite among North American drivers for almost a quarter of a century because of its sleek, sporty appearance and surprising cargo space inside. While Jeep drivers tend to focus on the utility aspects of their vehicle, the Grand Cherokee offers drivers a bit of luxury on the side.
However, despite the appeal of this rugged yet attractive vehicle, it does have one big weakness that can sneak up on you quickly: its factory air suspension system. While the Quadralift air suspension system is amazing for the first few years of its life offering tailored suspension and an incredible ride, it quickly deteriorates leaving those with used Jeep Cherokees looking at their options for Grand Cherokee suspension replacement.
What Are the Known Jeep Cherokee Suspension Issues?
Most Jeep Cherokee drivers notice they have a suspension issue when a glaring yellow light that reads "Immediate Service/Repair Required" pops up on the dashboard. However, if you are a savvy Jeep Cherokee owner you can identify suspension issues before the warning light flips on letting you know that your ride is about to get a lot rockier.
If you know that your Jeep is likely going to need a new Jeep Grand Cherokee Air suspension kit then you can be on a lookout for issues so you can replace it promptly before you are riding on metal.
Obvious signs the air suspension system is starting to fail to include:
The compressor is louder than usual
The compressor is running longer than usual
Jeep Cherokee is "nose-diving" when you stop (front end goes down, while rear lifts up)
Fails the "bounce test"
How Do I Check for Jeep Cherokee Suspension Issues on my Jeep?
Worried about your Jeep and wondering if it is time to search for a Jeep Grand Cherokee suspension kit right now? You can actually check the condition of your suspension kit in under three minutes right now. Pick a corner of your Jeep and press the bumper down sharply and let it go. If your air suspension system is working correctly it should bounce right up. If you notice a delay or see it bounce up and down before settling again- you have a problem. Test all four corners of your vehicle to determine if the time for Grand Cherokee suspension replacement has come.
Common Reasons Factory-Installed Jeep Cherokee Suspension Issues Fail
The Jeep Quadralift air suspension system is intricate. The very reason it works so well is because of how intricately it is constructed, but this same intricacy means that it doesn't take much for the system to wear down and fail. There are dozens of things that can go wrong with the airlift system at any time, but there are a few more prevalent issues. For some reason, the front suspension always seems to give out before the rear, but there are exceptions to every rule.
Most popular Jeep Cherokee suspension issues:
Airlines punctured by road debris
Air springs rot, puncture, tear or wear out
The overworked compressor eventually fails
Jeep Cherokee Suspension Repair Options
While some suspension systems may last longer than others if you own a used Jeep Cherokee you have to prepare to replace your air suspension system at some point. Usually sooner is better than later since the damage is cumulative and you don't want the damage or wear to spill over into other components on your vehicle.
However, you have several Grand Cherokee suspension replacement options in front of you. From buying a new Jeep Grand Cherokee air suspension kit and installing it yourself to visiting a dealer and letting them replace your factory system, here are some pros and cons of each choice.
Go to the Dealer
The gut impulse of a lot of drivers is to take their Grand Cherokee to the dealership to fix the suspension system or any broken parts. While this may seem logical, it can be costly in the long run since most dealers only use OEM parts. One big issue with this approach is that you are only replacing broken parts as they occur in an attempt to keep the original airlift system, and if one air spring goes it is also a safe bet that within the next year all of the other ones will go as well.
If the dealer is willing to purchase or install aftermarket parts then you can cut costs slightly, but you still have to pay the basic labour fees, and unfortunately given how complex air suspension systems are, the task is quite labour-intensive. Airlift suspension systems are simply expensive to replace and maintain.
Purchase a Grand Cherokee Suspension Conversion Kit
However, Airdelete offers a second option that offers massive relief and deep savings for Grand Jeep Cherokee owners. We offer Jeep Grand Cherokee Suspension kits for Jeeps between the years 2011-2019 that allow you to escape the perils of attempting to maintain an air suspension system. Our Jeep Grand Cherokee coil spring converison kit is designed to completely replace the air suspension kit which can easily save you thousands in repairs on a system that is probably going to die again in just a few years.
Save Money by Investing in an Aftermarket Jeep Cherokee Suspension Kit
Don't get stuck in the cycle of investing money over and over again into an air suspension system that has a limited expiration date. Instead, opt for the Jeep Grand Cherokee suspension kit that bypasses complex computer technology and air and instead offers heavy, dependable steel struts and tightly strung springs.
For a rugged car that regularly takes on tough terrain, you need a tough solution and nothing is more rugged or tough than the cold, hard metal that makes up the Jeep Grand Cherokee suspension kit. While it may seem illogical, once installed, you will likely be shocked at how smooth the ride is because our Jeep Grand Cherokee air suspension kit is designed to replicate the air suspension system without its fallacies.
Act Now: Improve Your Ride with a Jeep Grand Cherokee Air Suspension Kit
We have even better news for you - the Jeep Grand Cherokee suspension kit is simple to install. A lot of people with basic mechanical knowledge install the kits on their own with a jack, some DIY skills, and a few hours of time. However, if the idea of a self-install doesn't thrill you the simple design makes the process much less time-invasive and affordable even if you let your mechanic tackle it for you.
Unless you enjoy your time at the dealer munching on snacks and drinking espresso from the vending machine, check out this amazing Jeep Grand Cherokee air suspension kit and put the glide back into your ride.